Heathpark Lodge is a charming Victorian home which was built in the late 1830s - early 1840s and originally was the gardener's lodge to a large estate (which, over the years, has been broken up and a great majority of the land has been sold off).  Heathpark Lodge was sold off at the same time as the land and has been owned separately since the 1950s. A brief history of the house can be read here.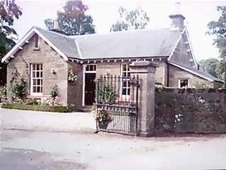 We purchased the house over twenty years ago and immediately set about more than doubling the size as then it had only one large bedroom.  It was quite a project because it was important to us to keep the peaceful, relaxed atmosphere and style of the original house and I think we have more or less succeeded.  Every effort was made to keep a many original features as possible.  Many guests remark how much bigger the house is inside compared with the exterior. A veritable tardis!
A couple of years ago we completely refurbished the whole house because I finally found a bedroom wallpaper we liked!  Originally the plan was just decoration of the guest rooms but the end result was two lovely guest bedrooms complete with ash and oak furnishings which led to updating the whole house. 
What We Offer:
A relaxing and homely environment in which guests can relax and enjoy the peace and quiet of our delightful home.
Two double en-suite bedrooms - one twin-bedded and one double-bedded. (See Rooms page for more details).
Two lounges for the use of guests.  A hospitality trolley is located in the front lounge which has an open fire for cooler evenings and the delightful sitooterie (garden room/lounge) which overlooks the garden. The photograph below was taken one summer's evening.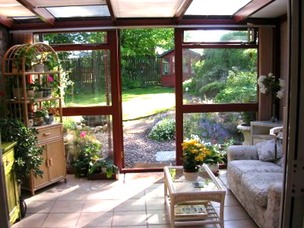 Private parking is available and garage facilities may be available upon request.
There are many other facilities offered to guests, details of which can be had on the Answers to FAQs page.
Contact
Enquiries can be directed by post, email, telephone or text message.  Apart from our postal address other contact details are at the top of the right-hand sidebar.  Our postal address is as follows:
Heathpark Lodge
Coupar Angus Road
Rosemount
Blairgowrie
Perthshire PH10 6JT
Email: heathparklodgeBandB@iCloud.com